Description
With an emphasis on comfort, Nordica's Sportmachine 3 65 W focuses on your feet—so you can focus on your skiing. Reimagined to offer even greater control, it features a wider yet low profile 102 mm fit and a softer shell that offers a plush and forgiving ride designed specifically for beginner and intermediate skiers.
Its 3 Force Construction sports a new spine and cuff design that boosts your confidence and efficiency by maximizing the transmission of energy to the ski. Incredibly soft, its liner is built around a woman's calf and can be heat molded for a custom fit.
And thanks to a dual entry instep, getting in and out of the boot is especially easy. Great days begin with Nordica's Sportmachine 3 65 W.
Features
Soles: 5355 PU
Shell: BIMAT PP
Cuff: PP
Liner: Comfort Fit W
Buckles: 4 MICRO ALU
Power Strap: 35 MM
Canting: DUAL
NEW BUCKLES DESIGN
As we did with the ACP, also for the buckles studies and researches led us on engineering a dedicated design for men and women. An investment that is not only a fancy cosmetic touch, but gives us the opportunity to improve grip on buckles to open and close them easier than ever.
BACK TOOTH CONSTRUCTION
It's always hard to make better something which is almost perfect. To do that, our R&D team put all the effort in improving the performance on the new Sportmachine. It reached this ambitious goal by redesigning the whole cuff, adding the back tooth as conjunction between shell and cuff as we already did in our successful Promachine and Speedmachine line. This technical feature improves performance and carving feeling to the next level on Sportmachine.
NEW ACP
A constant analysis on legs and anatomy led us to achieving important goals in differentiating not only products, but even technologies between men and women skiers. With ACP, we designed a dedicated shape which matches better women legs. In women product, our team has also developed a different system, which is fixed with only one screw to the cuff (men version have two screws) that allows a more natural flex and stiffness based on women power and needs.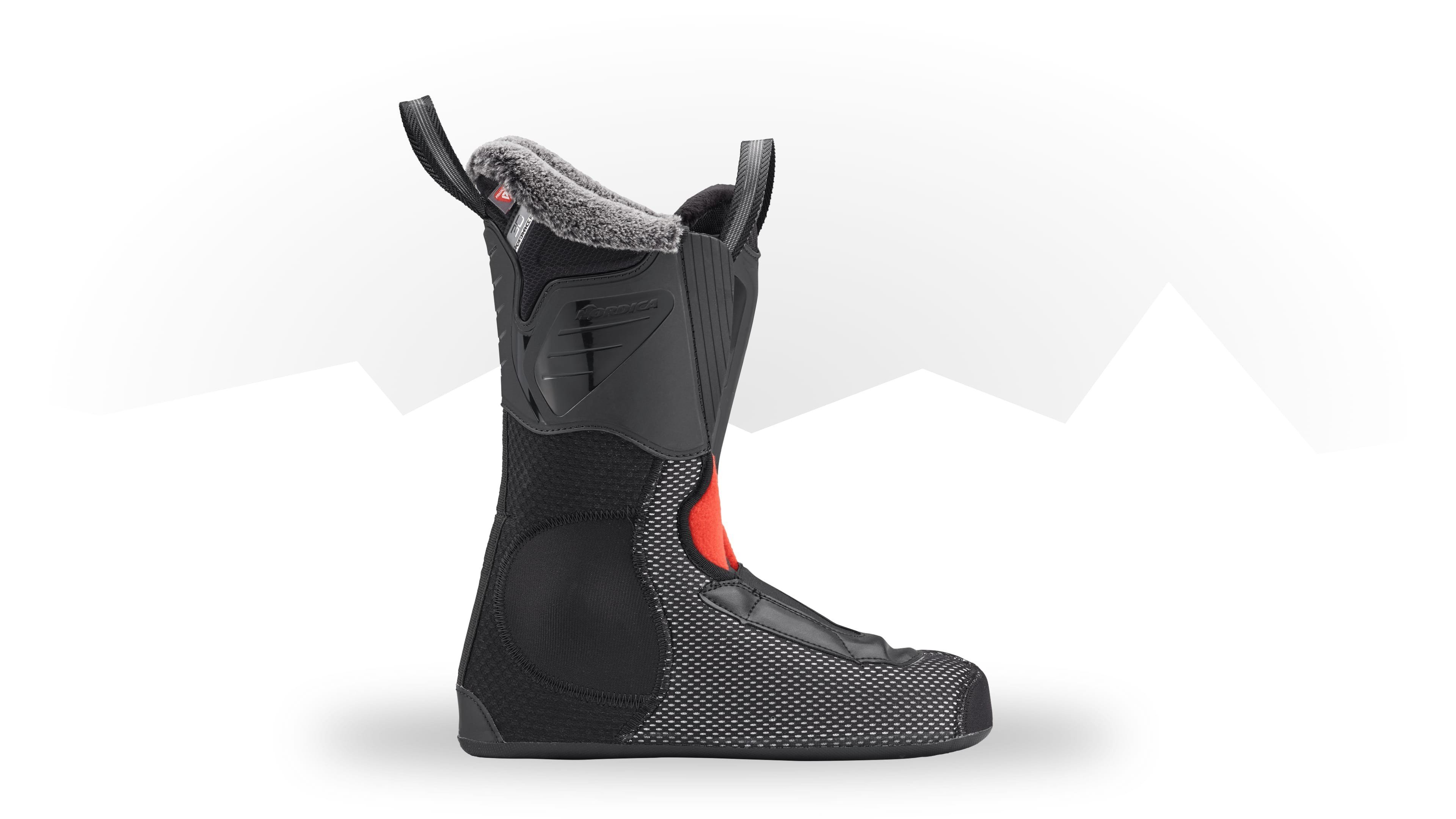 NEW LINER
Liners are the secret soul of every ski boot: that's why we are always looking for innovations and investments in this segment. In the new Sportmachine, we upgraded the liner by using some of the most innovative features present in our ski boots line. The 3D black cork gives a perfect anatomical comfort shape that could be easily customized using our Nordica oven to generate our own perfect liner. The black cork, coming from our Speedmachine liner, gives a charming and aggressive look. The Isotherm layer, together with our well known Primaloft technology, ensures to keep your feet warm and dry all day long.
3D CUSTOM CORK LINER
3D Custom Cork Liner is equipped with the natural cork material which cover the heel surface, an essential part in providing lateral transmission. This responsive material also provides thermal insulation, keeping your feet always warm and dry. Lastly, it's easily customizable to reach the best fit and precision.
DUAL EASY ENTRY
Soft plastic inserts integrated into the throat allow for easy step in and step out of the boot.
INFRARED TECHNOLOGY Infrared Technology has been developed by Nordica with the aim of customizing the boots in the most sensitive point for the skiers. Once you identify the pressure points, you just need to heat the area trough the infrared lamp. In a second step, apply the suction cup to neutralize the pressure in few minutes. Lastly, remove the cup and replace the liner: it's time to jump into the boots and enjoy the ride.
ADJUSTABLE CUFF PROFILE The Adjustable Cuff Profile is a simple system that allows to increase the cuff volume. Thanks to the double screws on the upper backside, every skier can easily customize the fit, finding the right comfort.
TRI FORCE SHELL CONSTRUCTION Nordica's 3 Force technology maximizes the transmission of energy from the leg and foot to the liner and shell for unrivaled power and control.
PRIMALOFT® Originally designed for the US military, PrimaLoft® insulation is permanently water-resistant. It retains its insulating and lightweight properties for warmth and comfort, even when wet. This is the best synthetic insulation available.
Not sure about which ski boot is right for you? Check out our guide below: